The post-lockdown guide to working from home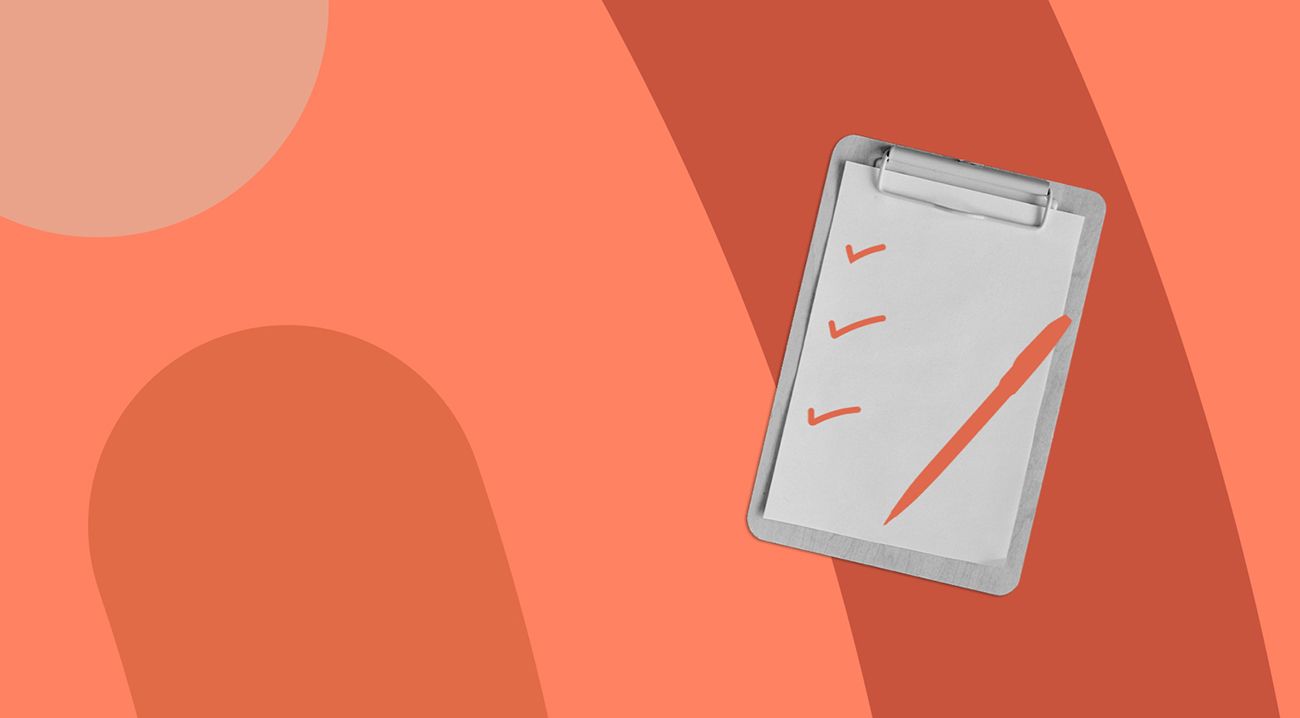 More and more people are working from home (WFH). It's a trend that's been growing for years, with higher numbers of self-employed people and remote workers. This trend rapidly accelerated during 2020 as a result of lockdown and it looks like the change is here to stay. But whether you are staying away from the office, freelancing from home or running your own business, it is important to ensure you've got your WFH organisation set up right.

Your WFH kit may include valuable laptops, mobiles, printers and other devices. These items can usually be expensive so you may want to look into insurance, or check your existing insurance covers them when you are WFH. Some homes and contents policies are designed only for 'home or domestic use', catching those out who are WFH. We think this is a bit harsh and assure Urban Jungle customers that we are fully onboard with the WFH revolution. Here at Urban Jungle we have not changed our policies so the usual working from home cover will apply.

However, we do recommend you follow these five simple tips to make sure you are fully covered during these remarkable times.    

1) Create a dedicated workspace
When life and employment are so closely entwined, breaking off into a 'work zone' can be a good idea. It'll also make accidents and mishaps a bit less likely.

2) Don't share your devices
We've seen a rise in claims caused by children running around or dropping devices. The owner of any device tends to be a little bit more careful, so we recommend keeping your work devices separate.  

3) Understand what's covered
Generally speaking, if you're doing clerical work, your contents insurance should be ok. However, if you've had a big change in circumstances, contact your insurer to let them know and ask if it affects your policy. But if you run a business from home that is public-facing and have clients visit you, it's unlikely that would be covered. Also, if you're selling things online, it's likely you'll require a specialist policy for stock.

4) Check with your employer
Another grey area that has emerged is if your work-from-home kit belongs to your employer and not you, it is probably not covered by your home insurance. You should go back to your employer and ask about it, as they should be covering those things at their own risk.

5) Embrace WFH
For many, WFH marks a positive change and a chance to embrace a completely new lifestyle. Kiss goodbye to the commute, manage your time more effectively and enjoy life, knowing you're fully covered.
Is my contents insurance affected?
As government guidance changes post-lockdown, there are likely to be disputes pitting the self-employed and homeworkers against the insurance industry. We've made a flow chart to help you recognise if you may be affected.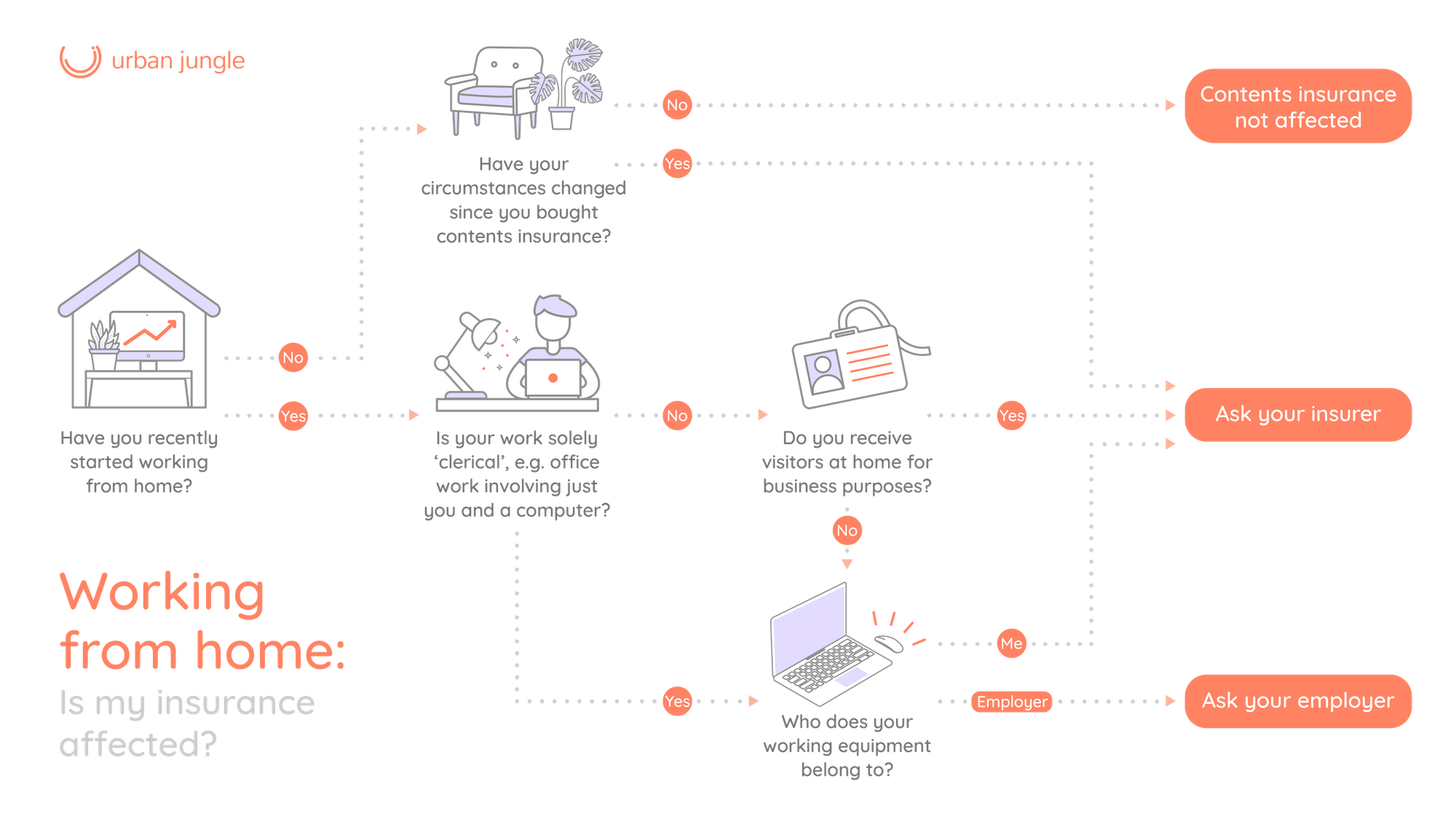 Insurer's view: how life has changed during lockdown
A lot can be learned about life from the misfortunes and mishaps we suffer. As an insurer, Urban Jungle hears about many of them, from the broken and lost items to the unfortunate acts of theft that sometimes affect our customers. However, during lockdown, stark differences emerged that showed just how much life was changing.

Of course, people have clearly been working from home (WFH) far more and staying in more generally. But, even if you managed to not watch the news for the past year, you could still tell something had changed very significantly if you saw the kind of insurance claims we received.

Spillages
There's no doubt about it, a lot more drinks were knocked over during lockdown. We were all staying in, more watching TV or perusing the web and, whoops, a teacup went over. Water damage to laptops was one of our main claims during this period and remains fairly high as people keep working from home.  

Kids and TVs
The kids were off school and needed to burn off some energy, which many did by running around the house. Inevitably, things got bumped into and, often enough, that was a TV set. Urban Jungle saw an increase in things being knocked over - specifically the telly.

Found not lost mobiles

We were staying in more and therefore were less likely to lose things. In normal times, we tend to get a fair number of claims for lost mobiles. However, we saw these numbers drop. So, when you asked someone to ring your phone to help you find it, chances are it was still in the house.

Burglaries

Thankfully, there were fewer break-ins and burglaries during lockdown, as many would-be thieves were likely put off attempting a burglary while we stayed at home. Or perhaps they just wanted to maintain social distancing?

Bike thefts
There's been a boom in cycling this year and it's great to keep in shape. Sadly, we did see a rise in bike thefts as lockdown measures started to ease. Do check out our guide to keeping your bike safe. Thieves know a lot about bikes, but there are ways to deter them.

WFH Kit
As WFH becomes more common, we've seen a growth in expensive laptops (worth more than £2000) being used. It seems that this essential item is one people are more willing or feel they need to invest in. There has also been an 80% rise in people using Macbooks, which suggests there's been a lot of creative work going on with home workers.
Other articles you may be interested in: