What is Home Emergency cover?
What is Home Emergency cover?
Home Emergency cover is a type of insurance covering the costs due to a sudden unexpected event that requires immediate action, to prevent further damage or to make your home habitable. For example, a complete breakdown of your heating system, or losing the only set of keys to your home.
The insurance cover will usually include the call out contractors' costs, charges, parts and materials used in the Home Emergency.
Home Emergency cover is often an added extra to different Home Insurance policies so if you want the cover, you might want to add it on.
Home Emergency cover usually means you'll have to use the insurance provider's chosen contractor. For example, if you were to have a Home Emergency you would need to contact your insurance provider, not call out your own contractors and claim back the cost.
Most insurers who offer Home Emergency will have an emergency phone number that you can access 24 hours a day, 365 days per year.
What is Home Emergency cover on Buildings Insurance?
Home Emergency cover on Buildings Insurance is cover for unexpected events that need immediate action to prevent further damage to your home or make it possible for you to stay there.
Home Emergency cover will usually include the following:
Boiler and central heating - this will usually be for a total failure or complete breakdown not caused by accidental damage. Most insurers will usually have an age limit for the boiler. For example, the boiler must not be over 15 years old. Or that your boiler needs to be serviced each year.
Plumbing & Drainage - this would cover issues such as a burst pipe or blocked drain.
Home Security - damage to the failure of the external doors, windows or locks which comprises the security of your home.
Toilet Unit - breakage or mechanical damage resulting in the toilet not working provided that there is no other toilet in your home.
Domestic Power Supply - this covers the cost of repairing main electrical failures.
Lost Keys - if you cannot replace them to gain access to your home.
Vermin Infestation - Usually mice, rats or wasp nests. Any infestations that need specialist removal, like bees or moths, are usually excluded.
Alternative Accommodation Costs - if your home is unsafe to stay in, the insurer will provide the cost to cover alternative accommodation until it is safe.
Head here to learn more about Buildings and Contents Insurance.
For a quote head here:
If you're a renter or tenant you do not need to purchase Home Emergency cover as your landlord is responsible for any emergencies and for keeping you safe.
Head here to learn more about Contents Insurance for renters or Tenants Liability cover here.
Is Home Emergency cover worth it?
If you're worried about forking out unexpected costs for an emergency, this cover may be for you.
Home Emergency cover provides you with the added peace of mind. It also means you don't  have to find contractors in a potentially stressful situation as the insurer will have contractors to supply. It's ideal if you're a first-time buyer and don't already have some recommended contractors.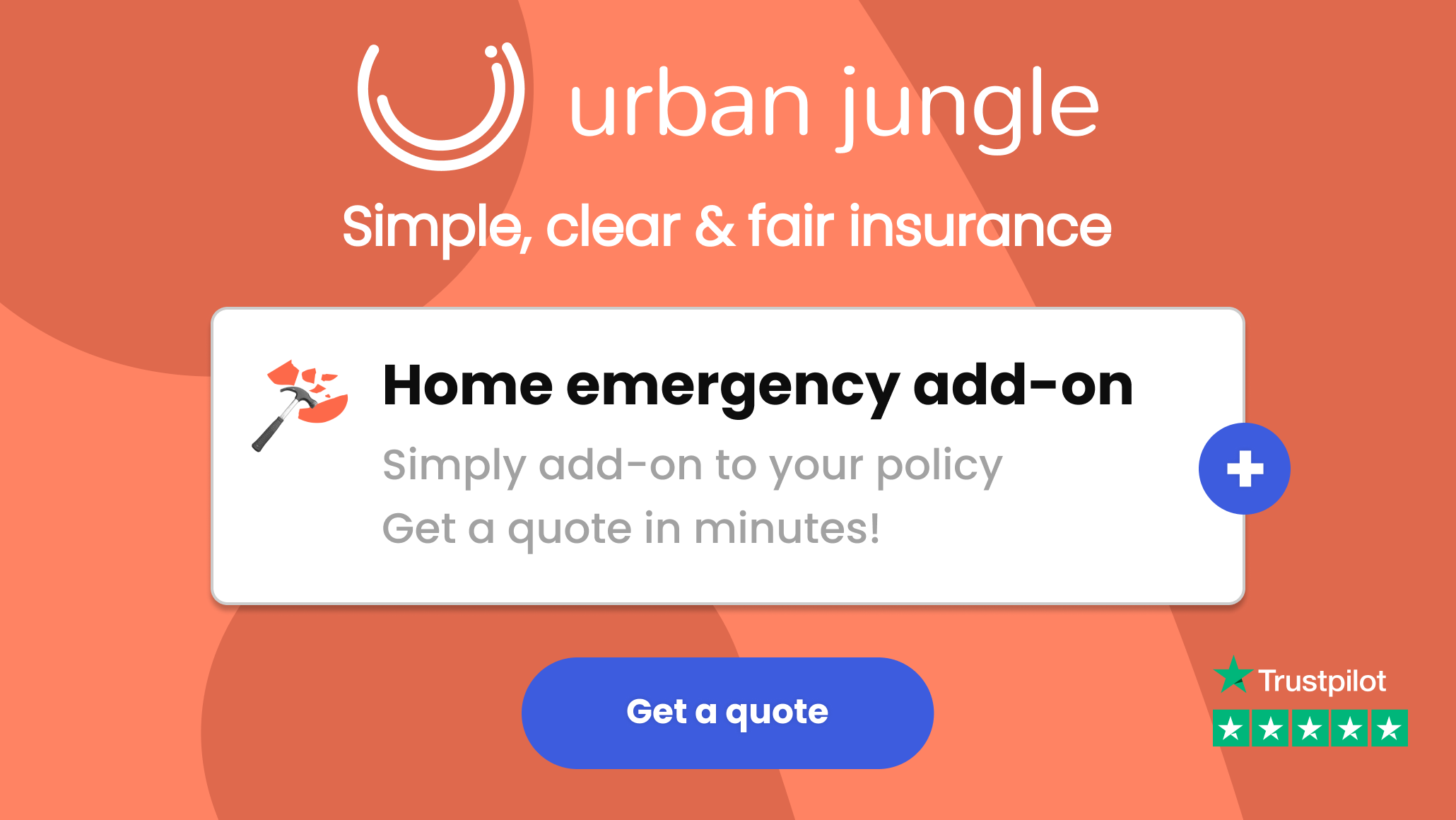 Do I need Home Emergency cover?
While you may need to buy Buildings insurance in order to get your mortgage, Home Emergency is not 'compulsory' to buy. Ultimately, like with a lot of insurance, it's up to you whether you think it's worth it. Another option is to self insure, provided that you keep a 'Home Emergency' savings pot at home.
How should I get Home Emergency?
Home Emergency cover as part of your home insurance
Home Emergency is usually an added extra on your policy and is rarely included as standard.
It also might work out cheaper if you include it all under one policy. For Urban Jungle's Buildings only and Buildings & Contents policy, you can add Home Emergency cover for just £4 extra per month. If you need to make a claim it could be beneficial having everything on one combined policy.
Home Emergency as standalone cover
While a standalone Home Emergency policy may cost more, you have the option to tailor your cover levels. If the policy also includes a boiler service, it could also be good value.
What is not covered on Home Emergency insurance?
All insurance has restrictions on what is covered and what is not. When buying insurance you should familiarise yourself with the insurance policy document to make sure you understand exactly.
Poor maintenance and wear and tear - you'll need to keep your home in a good state of repair. If not, the home emergency could be considered a result of negligence.
Outbuildings - buildings outside your home are unlikely to be covered.
Subsidence, landslip or heave - is unlikely to be covered as a home emergency.
Unoccupied home - Most insurers will have certain restrictions on how long your home can be unoccupied consecutively. This will vary depending on the insurer but is usually around 30 days.
Costs that have been incurred before the claim has been accepted by the insurer - when making a Home Emergency claim, you must first call your insurer. No claims will be accepted if you arrange your own contractor and try to claim the cost afterwards.
How to make a claim on Home Emergency?
In the event of a Home Emergency, you should call your insurer as soon as possible. They will have a line open 24 hours a day, 365 days a year. You should provide your name, address, postcode and nature of the issue.
Home Emergency cover with Urban Jungle
Urban Jungle offers Home Emergency as an add-on to our Contents Insurance, Buildings Insurance, and Buildings & Contents Insurance.
We hope this has cleared up all your questions on Home Emergency. If you still need some help, get in touch with our expert support team here, see our example Buildings and Contents Insurance policy document here or see our example Contents Insurance policy document here.
Other articles you may be interested in:
Urban Jungle is not a financial advisor and information in this article should not be taken as advice or recommendation.